RMT R8123 Linear Actuator Remacro Motor
Genuine RMT R8123 Linear Actuator, made by Remacro Machinery & Technology (Wujiang) Co., Ltd.  
Model R8123 has several sub-models in different sizes and specifications. The sub-models are marked on the second line of the motor label. The following sub-models are in stock and will be delivered within 3 days after placing the order:

R812301156333
R812302040333
R812342045333
Notes:
To ensure you receive the motor in correct size & specification, please let us know the sub-model of your motor by the following means:

Our email: support@lifeeasysupply.com

SMS: +86 138 0224 7190
Please note:
Your order will not be processed if you do not send the label picture.
We can provide any RMT linear actuator model, if you need other models, please feel free to contact us.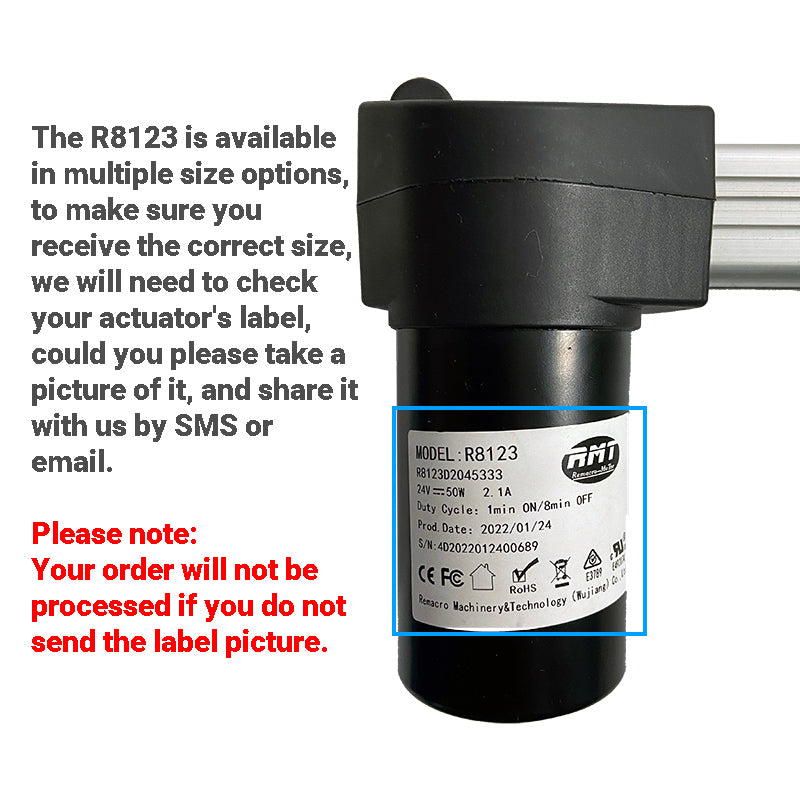 Specification:

Model: R8123
Input: DC24V 2.1A
Power: 50W
Duty Cycle: 1min ON, 8min OFF
Attention please:
As the shipping cost for this item is too high, our return policy does not apply to this item (THIS ITEM DOES NOT ACCEPT RETURN), If you are not sure if this is the model you need, please DO NOT order
Shipping instructions
We do not keep stock for this item, anytime you order, it will take us about 5 days to get it from the manufacturer.
The item will be shipped from China, the shipping method is DHL/FedEx or other similar methods, the shipping time is around 7-15 days.
The shipping cost is 40USD.
---
We Also Recommend
---