eMoMo HX90EU Switch for Recliner Lift Chair 4 button with USB
This is the genuine eMoMo HX90EU switch, if your original switch has the same model number, this switch will replace it perfectly.
This switch has 4 buttons, 1 USB charging port, and 2*5-pin round plugs.
This switch is used on recliner/lift chairs/home theater chairs, for operating up/down function.
Suitable for dual/2 motors chairs.
USB charging port: 5V 2.1A output
With install screws
With a front cover panel

Warning:
The eMoMo HX90 is a big series, it has multiple sub-models, this one is HX90EU, please refer to the following picture to check your switch's serial number prior to buying.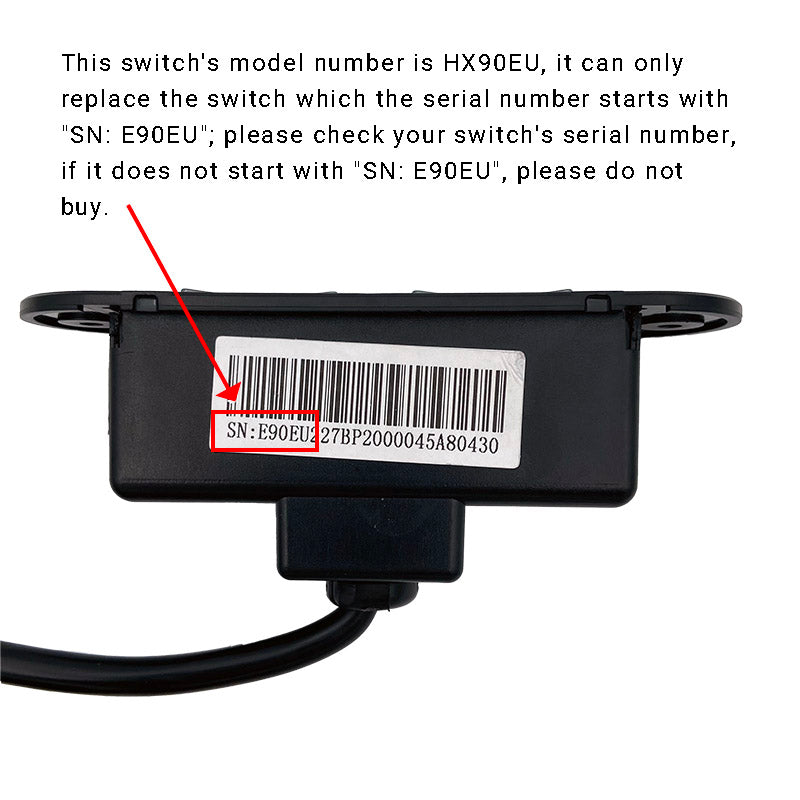 The HX90 switches are available in different versions:

HX90AFU is the 2-button version, which operates one linear actuator motor, please

 

click here

 

to buy
HX90HU is the 5-button version, which operates two linear actuator motors, please

 click here

 

to buy
HX90TU2 is the 8-button version, which operates three linear actuator motors, please click here to buy


Operation Guide:
1. First thing to do after install
After installing this switch to your chair, please operate all the actuator motors to the longest and shortest position a couple of times, so that the switch can identify the stroke of the motor.

2. How to memory a position
Adjust the chair to the desired position, and long-press the memory button for 2-3 seconds, when you heard a beep sound, the position is memorized.
To reach that position, short press the memory button.
There are two memory buttons, you can save 2 positions separately.

3. Charging port
There are two charging ports, one is USB, the other one is Type C, please choose accordingly. The rated voltage of both ports is 5V.

4. Avoid quick operation of the buttons
When responding to the switching operation, the current is relatively large, which is likely to cause damage to the switch.



---
We Also Recommend
---